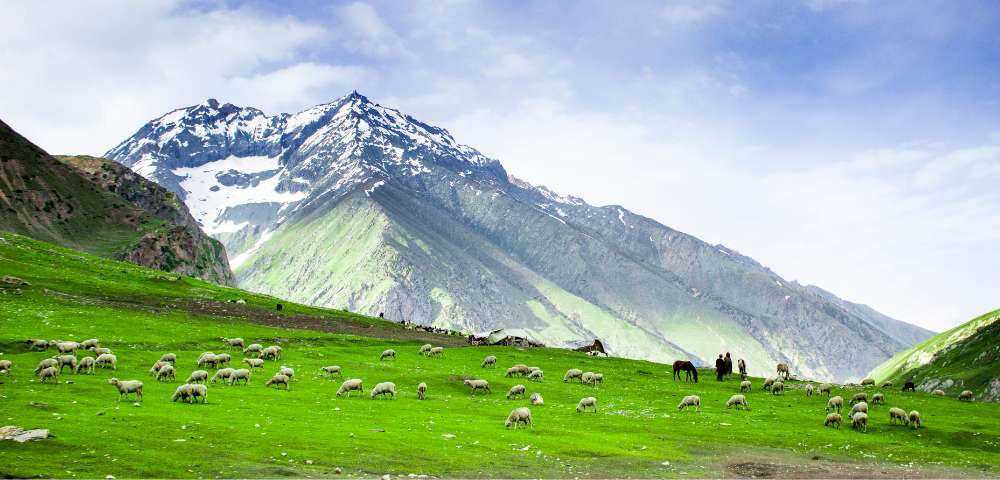 Category: Incredible India | India Visa | Posted On: 19 Feb 2020
Jammu and Kashmir is one of the greatest tourist places and one of the Union Territory of India. It is known to be the most attracted place by the poets.
J & K is situated in the green Himalayas and is surrounded by the peaks and mountains. J & K is well known for its beautiful mountains, valleys, lakes, temples and Mughal Gardens. Let's see few of the best things about J & K.
J & K is mainly spoken about Chinar trees. Chinar Trees are known as tradition and identity of Kashmir. Chinar Trees give majestic look and beauty to Kashmir during all seasons of the year.
Kashmir is also famous for other trees like Willow, Deodar, Pine, Fur, Oak and many other. But no tree is as royal as Chinar.
J & K i.e. Jammu & Kashmir is well known for its favourable cuisines, apples, and picturesque surroundings which attracts people all over the world. Kashmir is known for its white glow scenic in winter covered with snow and melts in summer with blooming flowers
Speaking about Jammu it lies on the bank of Tapti river and the famous Hindu pilgrimage Vaishnavi Devi temple is situated nearby. Many devotees will visit throughout the year to worship Matha Vaishnavi Devi.
The temple of Maha Kali is located in Bahu Fort which was built after the coronation of Maharaja Gulab in 1822.
There are many other famous temples like Gauri Kund Temple, Shudh Mahadev Temple, Shiv Temple, Ranbireshwar Temple, the Parmandal Temple complex, Peer Khoh Cave Temple etc.
Srinagar is the capital of J & K.
Sri Nagar is situated in the heart of Kashmir valley.
J & K is surrounded by Chinar trees. Sri Nagar is famous for its beautiful gardens. It is very famous for its mosques built by the Moghul Emperor in Ancient times.
Patnitop is one of the attractive hill stations in the Udhampur district of J & K. Patnitop is attracted by its lush greenery and colourful fields. Main attractions of travellers here are trekking, skiing, camping, mountaineering.
Two towns kud and batote located in Patnitop, whereas kud is known for its popular pattissa (Soan papdi) and batore for high quality kidney beans (RAJMA).
People can travel to Patnitop by air, road or by train. This hill station is very easily connected with the cities
Apart from tourism, Patnitop is very much known for shopping. This place is very much noted for dry fruits. Pashmina Shawls, Dogra jewellery, painting, Handicrafts, very ancient Souvenirs from Kashmir are very famous. From Patnitop trekking to Natha Top which is considered to be best place for skiing and paragliding.
Gulmarg slopes are skiers spot for enjoyment. In winter it is covered with snow and the scenic. The green meadows of Gulmarg is fully covered by the flowers which is inspired by the poets. During winter as it covered with snow makes an adventurous spot like snowboarding, Heli skiing.
As it lies on the lap of Apharwat peak, which gives access to the Gulmarg Gondola, the second highest cable car ride in the world entertains to give unique experience.